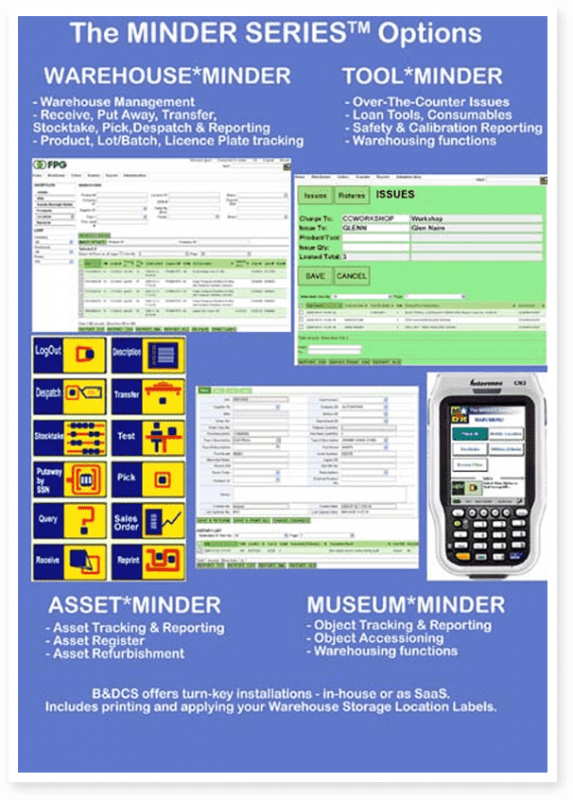 The MINDER*SERIES LEGACY
The Minder Series™ was first installed in 1999 as part of year 2000 upgrade and to meet the growing popularity of Microsoft's Windows Server based systems.
Exceed customer expectations of product availability and control your supply chain with our inventory barcoding systems. We are a proven industry leader with innovative solutions for your small to medium business. Our Warehouse Management System & Inventory Management Systems are highly cost effective and reliable.
Much of the design was inherited from the SCO Unix based STOCK*MAN™ Warehouse Management System which pioneered the use of Spread Spectrum Radio Frequency Technology for Barcode Inventory Control Systems B&DCS started using in 1991. B&DCS installed the first Australian Warehouse Management System with this technology at BHP Steel, Port Kembla in 1992 and this continued until it was replaced by an SAP system approximately 2 years ago. This system maintained for many years an inventory accuracy of well over 99.9% with over $60 million Maintenance Spares.
Bluescope Steel Direct continues to operate WAREHOUSE*MINDER™ for Warehouse management of their Australia-wide Call Centre for Steel Samples and Technical Publications
The MINDER Series™ is deployed across a very diverse range of Warehousing environments – from the many Cool Rooms at Fresh Produce Group, Sydney Markets to handle perishables on a 24 hr x 7 day basis to National Museum in Canberra to track their Museum Objects, much of which are in Warehouses located many kilometres from the Museum itself.
WAREHOUSE*MINDER + ASSET*MINDER variants are used by APCD over 7 years to process and track the refurbishment of ex-leased IT Equipment. The simplified Barcoding Hand Held based Descriptions and Conditions Data Collection functions have enabled employment of Operators with only minutes of training.
The TOOL*MINDER variant is used for Tool Loans and Consumables using Over-The-Counter Touchscreens and Cordless Scanning to expedite Issues and Returns such as at 2 Shell Refineries and by Alstom Power for short and long term Power Station Maintenance and Overhaul Contracts.
Alstom operates the Inventory & Warehouse Management System both on-line mode at their Maitland Warehouse then ships their tools to a Power Station and operate out of a set of their purpose built Shipping Containers using the Terminals in Batch mode to record all Issues and Returns
Now in its 5th generation, WAREHOUSE*MINDER is 100% Web based (except for Batch Hand Held Terminal applications) and as such can be supplied and operating as a SaaS (Software as a Service) within a few days at your Warehouse subject to a suitable Internet connection and Barcoding Hardware plus importing your Product and Storage Location Profiles.
SaaS WAREHOUSE*MINDER is being used by Warehouses as small as one person to 20+ person Warehouses and handles from a few to over 3,000 orders per day.
WAREHOUSE*MINDER is available for in-house installation and operation on either Microsoft or Red Hat Linux Server platforms.
It requires almost nil in-house IT support but should use Firefox as preferred Desktop Browser. MS IE8 is expected to be compatible but not yet tested.
B&DCS maintain a team of dedicated Developers to continuously expand and improve the functionality as well as to provide training and support.
Client requests for new functions are most welcomed and ensures that the system remains relevant to today's ever changing ways of doing business.
Warehouse* Minder
WAREHOUSE*MINDER has been operating for over 12 months with NetSuite™ SaaS ERP using SOAP interface to retrieve and update both Sales and Purchase Orders. It extends NetSuite with extensive Lot No and On-consignment Tracking functions.
Flexibility is a key component of The MINDER Series. Flexibility has been achieved by the use of the following technologies:
PHP and Zend Framework and MVC Architecture for all screen displays – Desktop, Touchscreen Receiving Terminals and Touchscreen Hand Held Terminals. B&DCS can build your custom views using economical Open Source Tools.
Firebird SQL Database – one database schema with nearly 100,000 lines of SQLProcedures is shared by all MINDER variants thus ensuring lower maintenancecosts.
Python Scripting for importing of Excel and ASCII files as well as – Python basedbdc sprint used for label printing, or
Optional BarTender® + Commander or Nice Label Enterprise with NiceWatch® (butrequires MS Windows platform)
Label Printers – Intermec, Zebra, Datamax using IPL, DP, ZPL, DPL and EPL RequiresPrinter Drivers and Ethernet/PrintServer interface
Wide range of WiFi Hand Held Terminals running MS Windows CE 5.0+ or Mobile orcompatible HTML Browsers (subject to screen size and Touch).
Host Database Server platforms range from single User MS XP PRO to WIN 2008Servers from small low cost Linux to Red Hat Enterprise. Other Linux platforms may well be compatible.
Operates both Intranet and Internet – the latter requires suitable Firewall andAuthentication Security.