For Seamless Integration With Our Inventory Management System
Use Recommended MINDER Series™ Barcode Terminals and Scanners
A robust and efficient inventory management system depends on the use of barcodes and barcode terminals and scanners. The most basic implementation would be for scanning stock in and out, and to simplify stocktaking. At a higher level, barcoding can be used to make the storing, picking, and dispatch of stock more accurate and efficient, enabling your business to process many more orders per day.
B&DCS' MINDER Series™ inventory management solutions are designed to operate with two types of barcode scanners: mobile (handheld) computer terminals for use throughout warehouses, and cordless or tethered scanners for order checking and other data capture functions.
Handheld Computers
The Honeywell CT40 mobile computer is a portable, lightweight full-touch device that is also simple to use. It easily fits in the palm of your hand, making it comfortable to use all day long. Three scan engine options designed for different environments allow the CT40 to be used in a variety of settings – including outdoors – without the data capture speed or reading range being affected.
Honeywell's CK65 mobile computer is more advanced – and more rugged – than the CT40, without being significantly heavier, meaning it is still easy and comfortable to use all day long. The more rugged build makes it more suitable to heavy-duty warehouse use, including on forklifts, and in addition to withstanding higher concrete drops than the CT40, the CK65 is also available in versions suitable for cold storage use or in environments with hazardous gases. And because speed and accuracy are always important, the CK65 is equipped with a FlexRange imager that supports simultaneous near, mid, and far range data capture.
Honeywell CT40
Medium-Duty Warehousing Applications
1D & 2D Short Range Imager- N3601, N6603, N6703 Slim Imagers
2-meter drops to concrete
4090 mAh Li-Ion battery (up to 12+ hours of operation)
Android 7.1 Nougat; upgradeable through Android R
WLAN IEEE 802.11 a/b/g/n/ac; Wi-Fi certified
Lightweight – 278gm with battery pack

One-year warranty
Honeywell CK65
Heavy-Duty Warehousing Applications
1/2D – N6703SR – 4.4cm to 57.3cm scanning range (13mil GTIN13)
Camera (optional)
4-meter drops to concrete
51-key alpha or 38-key numeric keypad, plus two programmable side buttons
Pistol Grip (optional)
7,000 mAh Smart Battery (up to 28 hours of operation)
Android 8.0 Oreo; upgradeable through Android R
WLAN IEEE 802.11 a/b/g/n/ac; Wi-Fi certified 2×2 MIMO support
One-year limited warranty
Handheld Barcode Scanners
Honeywell's Voyager 1450g and 1452g scanners offer omnidirectional reading of virtually all linear barcodes, with the ability to affordably upgrade to PDF and 2D barcode scanning when needed – either when buying the scanner, if your business already uses PDF and 2D barcodes, or later. The two scanners are near identical, with the primary difference being that the 1450g is a tethered, or corded, scanner, and the 1452g is cordless. The 1452g is meant to provide some flexibility when scanning but is not designed to be fully mobile. Both scanners are better suited for use with data capture functions that require on-line user interaction with fixed desktop computer terminals.
Honeywell 1450g 2D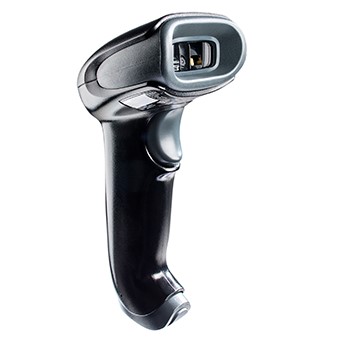 Tethered Scanner
USB Kit
5-meter drops to concrete
Additional functionality via software upgrades

5-year warranty
Honeywell 1452g 2D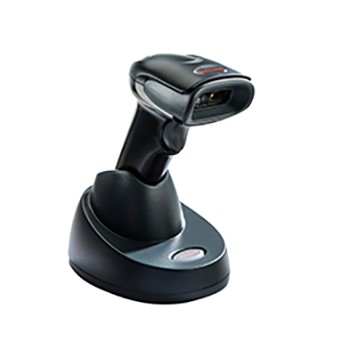 Cordless Scanner
USB Kit
4 GHz to 2.5 GHz (ISM Band) Adaptive Frequency Hopping Bluetooth, over 10 meters line of sight
2,400 mAh lithium-ion battery (up to 14 hours of operation)
5-meter drops to concrete for the scanner, and 1-meter drops for the base
3-year warranty
As a Honeywell Silver Partner, we offer a level of knowledge and experience with barcode scanners and printers that is surpassed only by our knowledge of our MINDER Series™ of warehouse and asset management solutions.